Đăng ngày: 2016-12-19 11:19:07 / Lượt xem: 4106
Coming to Hue, everyone wants to experience and see all ancient monuments of the last dynasty. Besides many citadels, temples and tombs, Hue is also famous for its relaxing and slow pace of life, which is really enjoyable for visitors ang the locals as well.
Transportation to Hue
Flight: Phu Bai Airport has become an international airport to serve many foreigner tourists coming to Hue. There are many daily domestic flight from Ho Chi Minh City and Hanoi to Hue with many airlines company such as: Vietnam Airlines, Vietjet Air, Jetstar with the price of flight ticket is roughly 900,000 VND/ way.
JetStar – Hotline: 19001550 – Booking online at website: www.jetstar.com
Vietnam Airline: Booking online at website: www.vietnamairlines.com.vn
VietJetAir – Hotline: 1900 1886. Booking online at website: www.vietjetair.com
Train: There are also trains travelling from Ho Chi Minh City and Hanoi to Hue. If you have enough time and really want to see many beautiful places across the country, you should try this one.
Train Ticket from Hanoi to Hue: 350,000 - 800,000 VND dependent on what class and type of your seat.
Train Ticket from Ho Chi Minh City to Hue: 400,000 - 1200,000 VND dependent on what class and type of your seat.
Shuttle Bus: From other places to Hue there are usually speeper buses on North - South Route. The price and quality is not different much, you can see some references from some firms such as: Hoang Long, Mai Linh, Hlink, Thuan Thao, Phuong Trang, Sinh Cafe.
In Hanoi, you can catch a bus to Danang at Giap Bat Station, Nuoc Ngam Bus Station and Luong Yen Station with the price of 300,000 VND.
In Hồ Chí Minh City, you can get the ticket at Miền Đông Bus Station with the price of 450,000 VNĐ.
Note: You should book the ticket in advance to avoid the case of running out of ticket or seat already.
Travelling in the city center of Hue: You can rent a motorbike to discover Hue by yourself. Price of a rent motorbike is roughly 100,000 - 150,000 VND. When travelling Imperial City, you should try cyclo (xich lo) to discover everthing in a relaxing way.
Boat on Perfume River
Travelling on a boat over the Perfume River, listening to Hue traditional singing and dropping the flower garlands and coloured lanterns in order to experience the real "Hue" in the evening. If you want to rent a boat over the Perfume River and listening Hue traditional singing as well, you should contact the Management of Boat Wharf.
The Price is dependent mainly on which route you want to travel through. There are many routes over Perfume River such as:
Hue - Linh Mu Pagoda: 80,000 VND/ 1 way/ 1 single boat (160,000 VND/ double boat)
Hue - Hon Chen Shrine: 100,000 VND/ 1 way/ 1 single boat (200,000 VND/ 1 double boat)
Hue - Tomb of King Minh Mang: 135,000 VND/ 1 way/ 1 single boat (270,000 VND/ 1 ay/ 1 double boat)
Hue - Bao Vinh: 50,000 VND/ 1 way/ 1 single boat.
Destionations: Monuments, Beaches, Tourist Attractions
CITY CENTER
There are so many hotels in the city center that can meet your requirement of a good acommodation and convenience. You can have a chance to enjoy yourself in a 5 star hotel service with a reasonable price. If you go on a business trip to Hue, you can find many hotels in city center that is realy convenient for your business on these folowing streets: Ba Trieu street, Hung Vuong street, or some hotels near Dong Ba Market.
Imperial City: This should be your first destination when coming to Hue. More than 100 years of history, those constructions in the Imperial City is still original and majecstically beautiful even most of them are ruined by the Vietnam war and time. The territory of the whole Imperial City is quite big, 11 kilometers in perimeter so you should spend a whole day to discover everything in details or at least 1 morning or 1 afternoon.
Hue traditional singing over Perfume River: Perfume river is the main pride of local people. In the evening, the weather is quite cool and comfortable, you can buy a ticket roughly 50,000 VND to get on the boat in order to contemplate the city and listening to the beautiful rhythm of this singing.
Hue Museum of Royal Fine Arts: (located inside of Long An Palace, the most beautiful one the Hue Monument Complex) is gallery displaying many costumes and stuffs of royal family of Nguyen Dynasty. The style of constructions is still originally preserved.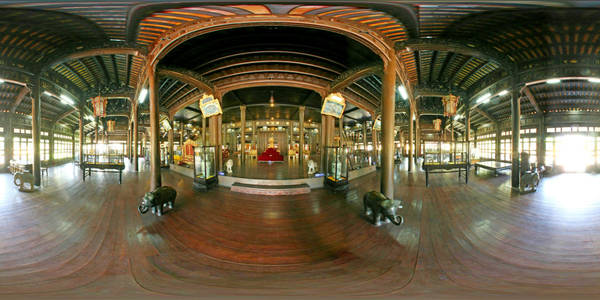 DESTINATIONS NEAR THE CITY CENTER
Tombs of Nguyen Kings: Coming to Hue, tombs are the unforagetable places that you should visit in person. Each tomb has its own story and its unique feature about construction. You should spend some time to visit them even this distance from city centre to those tombs is quite far. So you should take a taxi or rent a car and drive yourself (roughly 300,000 VND) for a tour to Tombs of King Tu Duc, Ming Mang and Khai Dinh.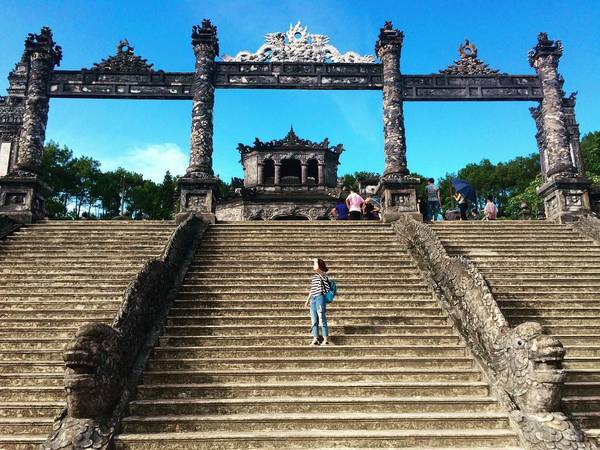 Hon Chen Shrine: This complex has 10 constructions at all located on the hills of Ngoc Tran Mountain, facing the Perfume River, hidden itself underneath of shadow of trees. This place is the most important shrine in the spiritual life of the locals and it is also has the combination between royal rituals and folk religion as well. The decoration art also reaches its peak of the end of 19 century style.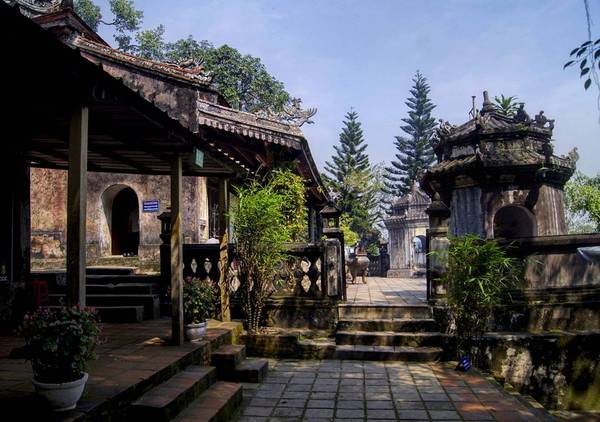 Thien Mu Pagoda: This is also an unforgetable destination in must - to - see list in Hue. First built in 1601 and well preserved through many restorations, Thien Mu Pagoda attracts so many tourists coming to visit for its romantic and quiet landscape and ancient buildings as well. You can get there by a boat over Perfume River.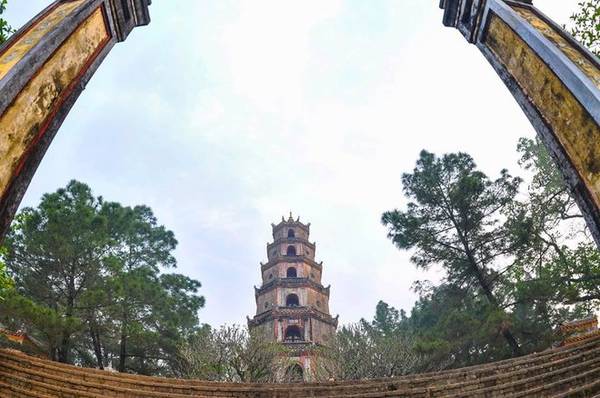 Vong Canh Hill: Located 7 kilometers from city center. From Vong Canh Hill, you can contemplate anf enjoy the parorama of the whole city, Tombs of Nguyen Kings and Perfume River as well.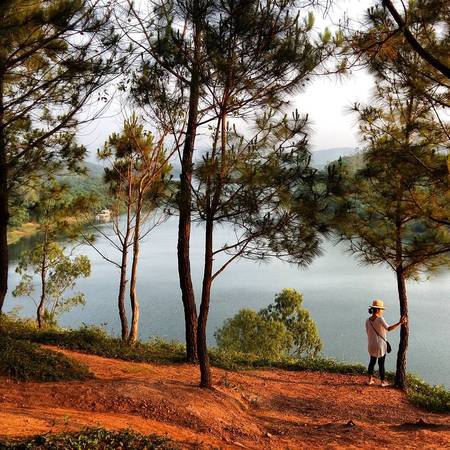 Ngu Binh Mountain: Besides Perfume River, Ngu Binh Mountain is the second gift given by mother nature to this area with the beautiful landscape. It is also iconic symbol of Hue as well. From this mountain you have a good view over all beautiful places in the surrounding areas.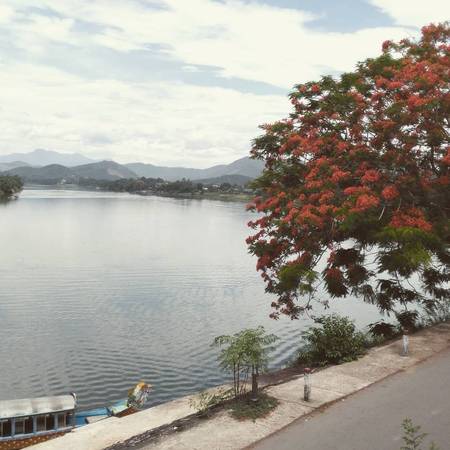 FAR AWAY CITY CENTER
Bach Ma Moutains: Located 60 kilometers from city center, Bach Ma Mountains is quite famous for nice waterfalls and lakes into the jungle. Do Quyen Waterfalls is a 400 meter high waterfal, in the summer time there is unique flower called Rhododendron in full bloom. Located near the center of the villas and hotels, it is Silvery Fall with a height of 10 meters and width of 40 meters. Put a foot at the top of Bach Ma Mountains, you can enjoy the panorama of Hai Van Pass, Cau Hai Lagoon and whole city of Hue as well.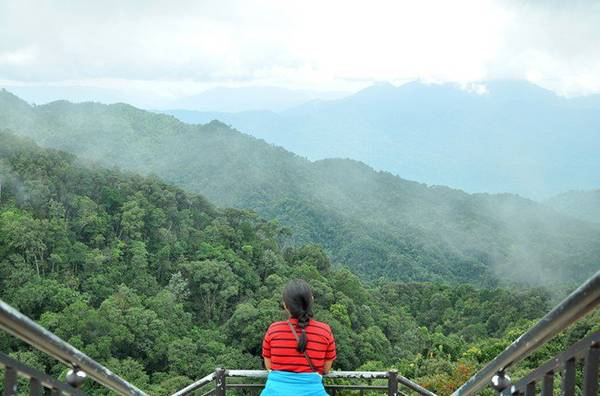 Lang Co Beach, Thuan An Beach, Canh Duong Beach: Those beaches are usually listed at the most beatiful beaches of the central part and they attract many tourists every year.
Lap An Lagoon: Located about 70 kilometers south of Hue, underneath of Hai Van Pass, mother nature has given this place a silk - liked curves of routes. It is the home to many rare fish and seafood called "specialty" and " pearl of nature" - oyster. The locals used the rubber wheels to farm and havest the oysters. Lap An Lagoon is really picturesque especially at sunset, which always makes many visitors want to take picture to remember this amazing monment.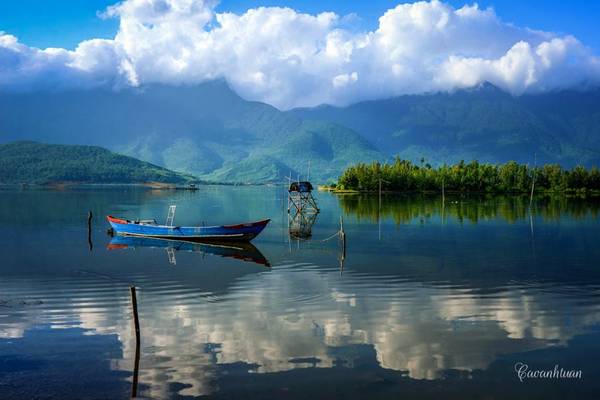 Cau Hai Lagoon: Not well known as much as Chuon Lagoon or Lap An Lagoon, Cau Hai Lagoon is on the national route 1A, from Cau Hai Area to the foot od Phu Gia Pass. It is a wide suface of water, fed by 3 main rivers in Hue so it usually turns from fresh water to blackish water when coming to dry season.
Elephant Spring: Located 60 kilometers south of Hue city center, it is a area of many big springs underneath of primary forest. It was called "Elephant" as a name beacause there is a statue that looks like a elephant drinking water itself at the foot of waterfall. There is also a lagoon called Elephant with a territory of 30 m2, depth of 2 meters, in the center of 2 waterfall.
Truoi Lake: From city center, passing through Truoi Bridge, then travelling more than 10 kilometers you can visit this beautiful lake and Truc Lam Bach Ma Zen Monastery. It was famous for "sweet jackfruit and mulberry" in a folk poem. The lake is big and green, clear and located underneath of Bach Ma Mountains. Visiting the Zen Monastery and also experiencing on the boat over the Truoi Lake as well, which attracts many tourists and visitors coming there.
Local Cuisine in Hue
The main feature of Hue Cuisine is diversified and quite originally unique. The original food in Hue is can not found in other place with the same flavour at all.
Some famous food stand:
Che Hem: famous with "che bot loc heo quay (che is the sweet dessert made from beans, rice paste, lotus seed, jelly, fruit, milk, yoghurt .....dependent on what type of che)

Yoghhurt Nguyen Du

Soy Bean Milk opposite to Dong Ba Market.

Noodles with small jelly fish on Chi Lang Street. One of the most unique foods in Hue.
Those ones following are must - to - try foods when visiting Hue.
1. Rice with mussel: This is usually sold in street vendors or street stalls. Price is quite cheap and a little bit strange.
2. Roxburgh fig: This is a folk food. Roxburgh fig can use to make salad with many types of noodles and also can be eaten with dry rice paper or stir fry with pork, beef and fish as well.
4. Bun Bo Hue: This food is quite common but it is actually originated from Hue. White and round noodles with some beef, crab meat ball or some braised pig trotters with some chilly and fish sauce. You can try this one all street restaurants and street stand in Hue at well.
4. Banh Beo in Hue: There are also many street of Banh Beo in Hue with many small street stands and restaurants at all. The locals like to have this one for supper or midnight snack. It is quite popular dish in Hue.
5. Banh Loc called "Mu Do": There are many street restaurants and stands in Hue selling this food but "Mu Do" or "Ba Do" is the most famous one and the most delicious one at all. Located at 71 Nguyen Binh Khiem Street.
6. Banh Khoai: Made by rice paste with yolk and added spicy, green onion, fish sauce, salt, shrimps, beef or bean sprout.
Nice Landscape in Hue
Tam Giang Lagoon
This is the most popular place for one who want to take picture of sunset landscape.
Imperial City
This is the most famous destination in Hue and also a nice place to take picture as well.
Truong Tien Bridge
Truong Tien Bridge is also must - to - see place in Hue. Romantic and poetic landscape of Truong Tien Bridge will help you have a amazing picture.
Perfume River
The Perfume River is the iconic symbol of Hue. The beauty of this river is also a inspiration for many artists and poets as well. With a lenth of 33 kilometers, along this river, there are so many parts that is really suitable for taking pictures .
Thuan An Beach and Lang Co Beach
Listed one amongst 20 beautiful places in Hue up till now, Thuan An beach is really nice place and also attracts many tourist coming to visit every year. Sunshine, blue waves, white and smooth sandbank, which is really good to snap a picture, right?
Lang Co Bay is regarded as top 30 the most beautiful bays over the world, so Lang Co beach is really nice place to snap pcitures as well. Underneath Hai Van Pass, white sandbank and clear waves is what to describe about this beach.
Thien Mu Pagoda
This landscape is really beautiful with ancient buidlings, surounding by pine trees forest and a view upon to Perfume River and moutain ranges around. Feeling the peacefulness of ringing bell as well.
Thanh Toan Covered Bridge
This one is the wooden covered bridge through a small channel in Thanh Thuy Chanh village. Located 8 kilometer Southeast of city center. This is one the most unique covered bridge in Vietnam. So it becomes a ideal place for the youth to take pirctures especially nostalgical ones.